Being one of only a few people from an ethnic minority background is not indifferent to me. Originally from Harrow in North West London, I was around 11 years old when we moved up north to Doncaster. At the time a predominantly Caucasian town. One of my first memories of noticing a difference was my first day of school, walking into the assembly hall and feeling as though every single eye in the room was on me, being the only Black person in the entire school. From there I went to University in Middlesbrough, once again I was in a less diverse area for another 4 years.
During my Masters year I had a part-time job working for AXA within their inbound car sales team, which sparked my interest in a career working with policy wordings, risks, and underwriting. After university, I moved to Australia to travel and play football for a year with a team there, but insurance was following me around: by coincidence, the team owner worked for Chubb at the time.
I told him about my job during uni, and my interest in the sector as a career. He arranged a six-month contract job for me, working as an Operations Support Officer in Chubb's local Financial Lines unit. I was hooked – I wanted to work in big finance, and I liked the idea of a wearing a suit in a fancy building. I was into the insurance industry.
Being in an even more foreign land than England I again found myself being one of very few Black people in the office. During my time in Australia, I met many people who had never met or even spoken to a Black person before. I almost felt I had to be the poster boy for Black people – a colleague and friend of mine from Singapore even took pictures or videos of me to show to her friends back home.
I felt like I had taken up this unofficial role to represent Black people to all those who'd had no experience of us, and felt an overwhelming responsibility to present Black people in contrast to what they may have seen on the television, news or social media. I did not want them to pre-judge me simply by the colour of my skin.
When I moved back home to England I got a job working for Azur High Net Worth (an MGA for AIG), again 1 of 3 Black people in the office at the time. After a year or so, I moved from Operations to Underwriting, and by this time I had spent so much time being a minority that going into the London Market was not a change in this respect.
It is natural for anyone to drift towards people who are visibly similar to them. I have always had a group of Black friends. I have a lot of White friends too, though, especially in football. In certain situations, I find that there is somewhat a shift, a code-switch, between groups of White and Black friends. The banter is different and the words/slang I would use varies between both groups. For example, there's the football changing room banter, where certain comments or jokes are made (in the showers, for example). They are often light-hearted in nature and not meant with malicious intent, but these sort of things you just learn to tolerate and to be honest, I don't know if that's the right or wrong way of dealing with things. In the workplace, having an ethnic first and last name – it's no surprise seeing your name misspelt in an email or mispronounced in conversation.
Having said all this, during my time working within insurance I've been fortunate enough to work alongside some brilliant colleagues from different backgrounds and walks of life, who have firstly never made me feel out of place or any different and taken the time and interest to learn and ask about my background and how to pronounce my name properly. Little things like this can make the biggest difference into creating a truly inclusive workforce.
I do believe the Market is becoming more diverse with companies now showing more initiative in pushing Inclusion & Diversity within their companies, such as Lloyd's Race Action Through Leadership initiative. Here within Brit, we have a number of Employee Resource Groups, R.I.S.E (Race, Inclusion, Solidarity & Equality) being the relevant one for this blog have put together a number of workshops around race, Black History Month events and even brought in guest speakers to discuss their personal challenges. They also have a key partnership with ACIN (African Caribbean Insurance Network) to help push diversity within recruitment in the insurance industry. Through our Inclusion and Diversity Committee I'm enrolled on a Reverse Mentoring scheme where employees from an ethnic minority background are paired with a senior member of staff seeking to raise awareness around the cultures of diverse groups within the organisation and the barriers faced by such groups.
One of Brit's cultural philosophies is to bring your whole self to work, which I strongly resonate with. With anything in life, nothing is perfect, but I believe Brit and many other companies are working hard to build a supportive culture in which everyone feels valued and appreciated.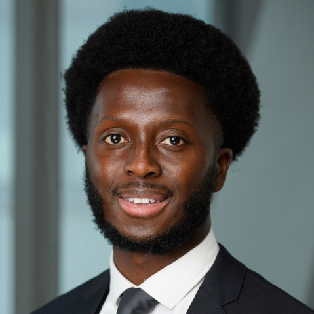 Sulaiman Deeks Massaquoi
Private Client Assistant Underwriter
Brit Insurance